We've upgraded our proven, reliable Cruise motors with 50% more power.
The new Cruise 3.0 and 6.0 motors include optimized helical gears to provide quiet, lightweight power unrivaled in this market.
This durable and extremely robust design is perfect for sailboats, motorboats and commercial applications up to 12 tons.
Available with remote throttle (R) or tiller (T) control, in 3.0 kW, 6.0 kW, 10.0 kW and 12.0 kW versions - with a variety of shaft lengths to accommodate a wide range of applications.
Ready to build the perfect Cruise drive system for your boat? Call us at 1-877-889-2546

 
The new Cruise pod motors with fixed pod installation now offer sailors and motor-boat enthusiasts pod drives with Torqeedo technology, and of course with a TorqTrac interface supplying all essential motor data.
Fitted inconspicuously below water, the pod drives save space and are both lightweight and powerful. The pod models deliver powerful thrust equivalent to 6 or 9.9 HP, and, with an optional folding propeller, are the long-awaited choice of motor for many sailboat owners.
Cruise 3.0 FP Benefits:
Space-saving, powerful, lightweight
Plenty of range due to highest efficiency
Safe, thanks to emergency magnetic kill switch
We recommend the Cruise 3.0 for sailboats up to to 3 tons
Operates with lithium or AGM/lead-gel batteries
All models with GPS on-board computer and display: Real-time display of speed and input power – and also the exact battery status and remaining range when used in combination with the Power 24-3500 lithium battery
Very robust design – protected from corrosion, saltwater-capable, and completely waterproof (IPx9K outside the hull when completely assembled)
Perfectly matched system integration rather than an assortment of components
The most powerful electric sail drive from serial production is a Torqeedo. The Deep Blue 25 SD propels sail yachts of up to 40 feet in length to speeds of up to almost ten knots (18 km/h), or smaller boats even faster when planing. This makes cruising with large sail yachts completely emission-free with virtually no noise or vibration. The Deep Blue sail drive is part of a completely integrated comprehensive system that was developed using industrial engineering methods, comprises high-tech components and which is manufactured in series production.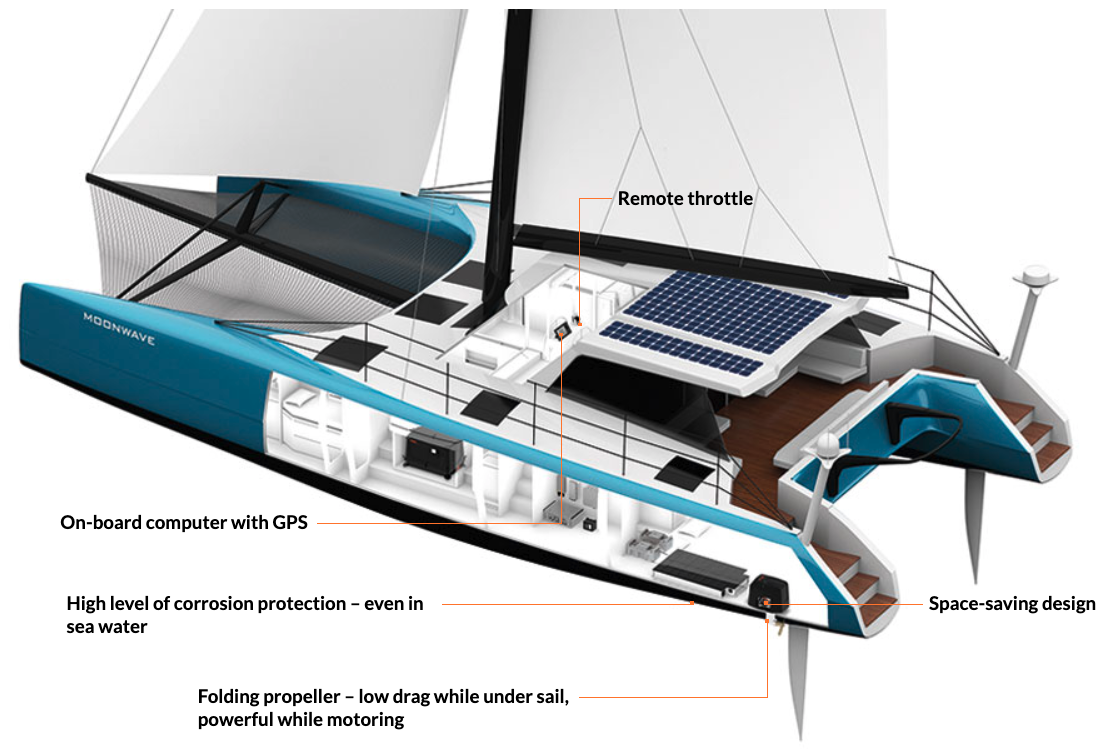 Deep Blue Saildrive for sailboats and catamarans
Light and quiet
With an overall weight of less than 90 kg for motor, sail drive and electronics, the Deep Blue 25 SD weighs less than a conventional sail drive with combustion engine. This benefits weight distribution on board, as the low net weight of the Torqeedo Deep Blue 25 SD makes a sailboat noticeably lighter at the stern than a similar configuration with a petrol or diesel engine when the motor is installed toward the rear.
The electric drive also excels when it comes to overall weight. Together with the149 kg top-class, high-performance lithium battery, the Torqeedo Deep Blue 25 SD has a gross weight that is very similar to the weight of a combustion engine with the necessary fuel tank.
The weight of the lithium battery can also be used to advantage in the design of the boat. The fact that the battery package can be arranged variably when the Torqeedo Deep Blue 25 SD is installed allows the weight of the drive system to be distributed around the centre of the vessel. This is the arrangement favoured by boat builders and boatyards. 
Travelling silently even when under motor power
No sailor likes the sound of an engine when travelling in calm conditions or when casting off or landing under engine power. In contrast to conventional petrol- or diesel-powered sail drive engines, the Deep Blue 25 SD operates quietly, creating extremely low noise emissions. The electric sail drive operates almost in silence owing to the nature of the system.
 
Number 1 in power delivery
As the most powerful electric sail drive from serial production, the Saildrive 25 SD delivers the equivalent of 40 HP of power, which makes it ideal for use with displacement vessels and large sail yachts.
Complete integration
The Saildrive 25 SD is a part of Torqeedo's Deep Blue series of high-performance motors. The high-tech components of the fully integrated overall system are carefully selected to match each other and are perfectly adapted for use on water. They offer professional safety features, compliance with international standards at system level and extreme ease of operation. The Deep Blue 25 SD can also be used to generate electricity. The seamless integration of the sail drive into Torqeedo's hybrid system offers the option of recovering energy while under sail through hydro power generation using the electric drive.
Low incidental costs
The Deep Blue 25 SD is emission-free on water and requires no consumable materials. There are no incidental costs for petrol or diesel or for regular maintenance incurred by a combustion engine.
Since the lithium batteries in the Deep Blue 25 SD are manufactured to the same high standards of quality as in the automotive industry, Torqeedo offers a warranty of nine years on battery capacity, promising a residual capacity of 80 % after nine years of daily use.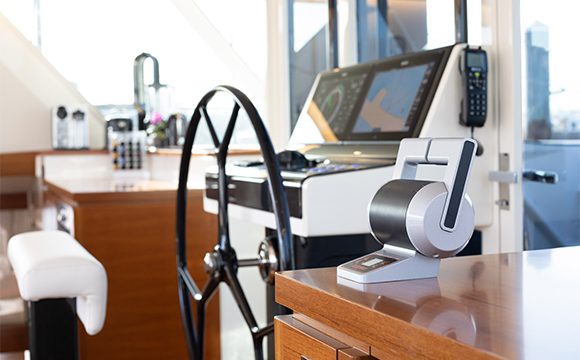 All benefits at a glance
Most powerful electric sail drive from industrial production
Low weight (only 86 kg for sail drive, motor and electronics)
Space-saving and boat construction-friendly design
Part of a balanced, fully integrated system
Compatible with all popular engine beds for sail drives